Birthed by Nature,
Shaped by Our Hands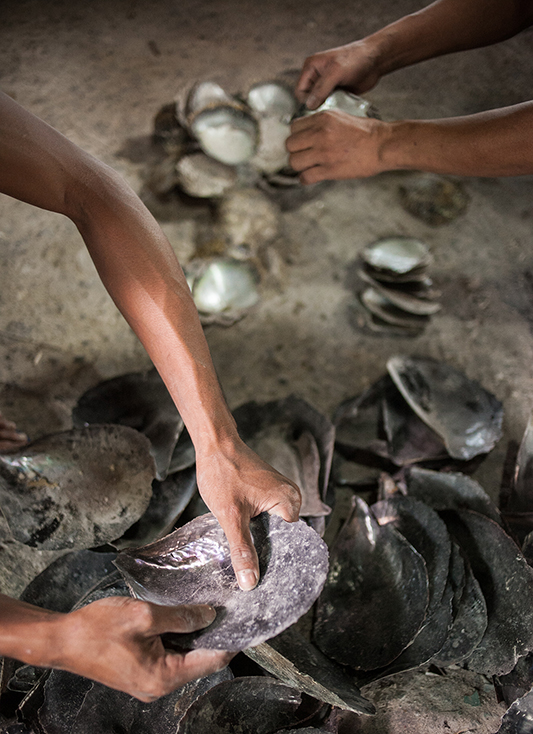 "There is beauty in seeing broken pieces come together."
At Bellezza Casa, we communicate beauty and design thru our personal artistic language of expression – Mosaic art.
The time-honored craft of mosaic making is related to a deep inner sense, which gives us an understanding on how to tap into a material's hidden possibilities.
Our modern interpretation of the art pays great respects to all the natural materials we use in our pieces. The beautiful stones, shell, and organic materials of our country tell a story like no other.
Our Materials and Inspiration
The complex beauty of Mother Nature provides many inspirations and never fails to produce something new and interesting. We recognize the beauty of nature in all its forms, and borrowing from the outside world is at the heart of all things we do.
The mediums that we use to create our pieces are from nature itself, and it is our intention to interpret her stories. But of course, Mother Nature presents it best, and we make it our mission to manifest her legacy.
The core of Bellezza Casa is quality craftsmanship, with pieces that are handcrafted and finished with an obsessive attention to detail; we aim for our products to be passed on from generation to generation. This is based on the belief of refined simplicity and timeless beauty.
With every table top, with every stone we hand inlay, and with every bespoke decor we deliver, we see possibility in putting greater value on experiences and embracing life's everyday luxuries. Living simply with beautiful, useful and meaningful objects offers an honest yet elegant way of life.
Our continued pursuit for the simple and authentic pleasures, has led us to produce beautiful crafts that offer luxury, luxury in the sense of the experience of beauty, art and quality.
What we make with our hands adds the values of authenticity, sustainability and tradition.
We create pieces with character and soul which people can share with friends and loved ones, and this makes one of life's most satisfying experiences.
Tour the Showroom
Book a visit to our showroom to discover our full range of materials, latest bespoke accessories, and furniture collections.
The Material Library
We carry a kaleidoscope of natural materials acquired responsibly and crafted respectfully with low impact on the environment. With four categories - stone, shell, organic, and resin, we aim to show the beauty of nature in all its forms.
Shell
Ocean's treasures, a part of your home, delicately hand-crafted to custom patterns and designs exclusive to you. View Collection.
Resin
Welcome an abundance of possibilities with resin. Play with light and color with it's translucence that allows light to illuminate all its rich vibrant colors. View Collection.
Organic
Resourcefully breathing life into natural, raw, and native materials of the land, translating the country's culture, textures, and abundant renewable resources into contemporary design. View Collection.
Stone
Each stone unique to its own formation, we embrace its natural variations in color and patterns. Melded to suit your specifications by using traditional techniques to produce elegant and sophisticated designs.  View Collection.